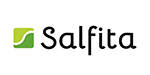 Salfita LTD is a young, ambitious as well as rapidly developing company, which was founded during the Spring of 2015 by businessmen with an already excellent and long experience in the production and merchandising of high quality food products.
Except for our experience and know-how in the field of food products, we bring along new ideas over the development and production of innovative comestibles. The right to the best possible quality, is top priority for us. Compliance with the HACCP guidelines is, therefore, taken for granted.
Our customers' satisfaction is the ultimate goal of our company. Subsequently, we offer trust, continuity and consistency for support.
Our aim is that our company should expand its successful business activities in the European market and, even more, throughout the global market.
Salfita LTD
Prodromou 30,1st floor
Engomi 2406, Nicosia,Cyprus
VAT Nr:CY 10336961Y
tel:0035722007215
Email: info@salfita.com